---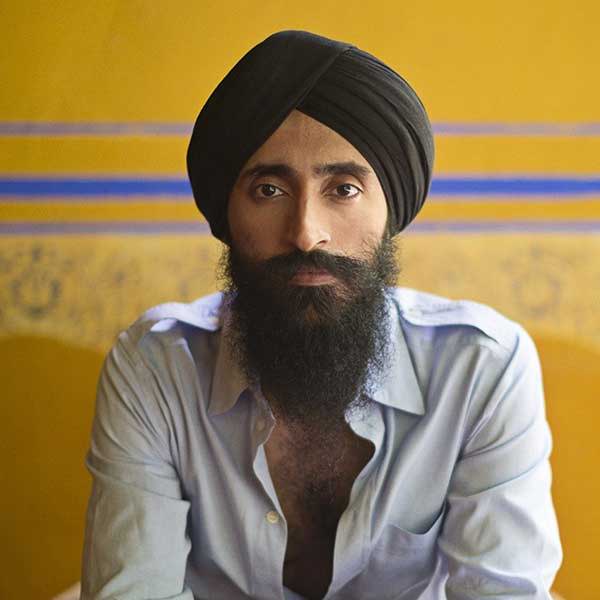 ---
Actor and designer Waris Ahluwalia founded House of Waris in 2007, exploring design through craftsmanship. He has a deep desire to tell stories and create experiences through products, shifting perceptions and captivating audiences.
After being nominated for both the Vogue Fashion Fund and awarded the CFDA Incubator Grant, he's worked with brands including Kenzo, The Kooples, Gap, Tory Burch, Gucci, Holt Renfrew and APC. While he's passionate for telling stories through fashion, he's also been able to portray stories as an actor — working with acclaimed directors such as Wes Anderson, Spike Lee, and Luca Guadagnino.
Some of these stories told encompassed social injustice endeavors, and because of this, the mayor of New York City proclaimed in 2016 that October 19th is now Waris Ahluwalia Day for his work in spreading awareness of social tolerance and acceptance.
House of Waris Botanicals is another extension of Waris — combining his love for storytelling, health, and nurturing livelihoods across the globe. The experience itself is rooted in plant science, and merges the ideas of education and celebration. Their adaptogenic blends offer a simple and delicious solution to the stress felt on a daily basis.
WELLNESS AS CELEBRATION
Adaptogenic blends offer an experience that's rooted in plant science, and merge the themes of education and celebration. The ability to slow down allows us to appreciate and achieve more as individuals and a community.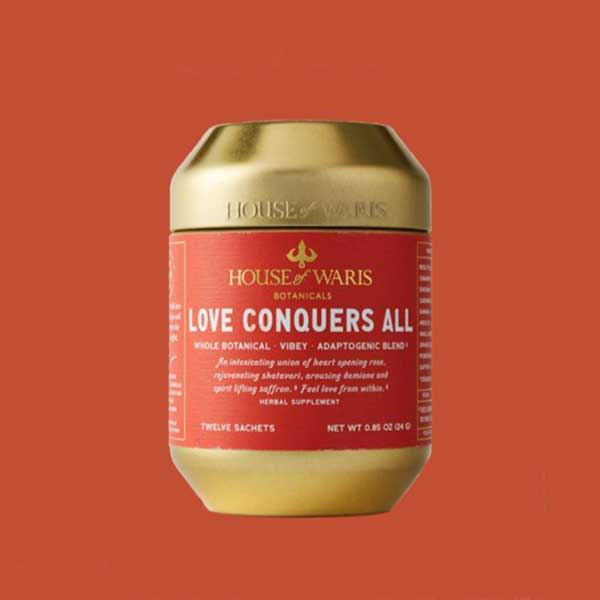 Start each day with love and passion.
Rose is the reigning sign of sensuality, luxuriousness, and love. This blend of adaptogenic herbs creates an energetic and heart-opening tonic to heal thy self by loving thy self.
This blend is combined with Shatavari, a natural remedy long used in the traditional medicine of India Ayurveda, to provide nourishment and rejuvenation. It all calms the body by reducing stress levels and providing full-body balance.
Included in this blend is Cleopatra's favorite aphrodisiac Saffron. Still known as the most expensive spice in the world, this lovemaking herb is coveted for its powerful and beneficial potency. Our cup of this tea and all joy-promoting activities are enhanced.
Add a little magic into your everyday routine with this herbalist formulated adaptogenic botanical blend.
After all, love really does conquer all.
Elevate your daily energy with hand-sourced organic botanicals from around the world.
This herbalist formulated naturally-nootropic blend brings focused energy from within to invigorate each day. Used by Western herbalists and Ayurvedic practitioners often, this blend reduces brain fog and fatigue, and enhances memory.
Tulsi is included in this blend to enhance cognition and boost clarity. Rhodiola, an adaptogenic root that can help the body protect itself from the negative impacts of stress on the immune, nervous, and endocrine systems, is also used. We then include ginger to help enhance circulation, which helps the drinker feel invigorated, present, and focused.
The combination of all herbs helps support digestion and aids the body in better absorption and energy utilization.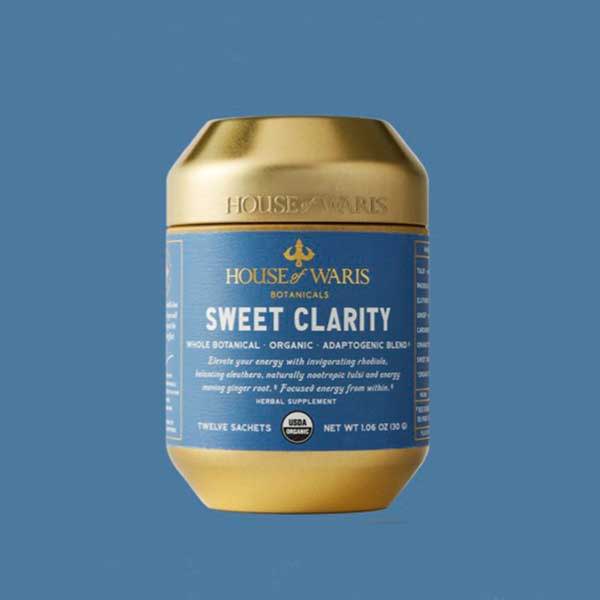 House of Waris is an escape from the ordinary. Described as a "modern day Marco Polo" by the New York Times, Waris Ahluwalia has traveled across the globe in search for the cultural treasures and experiences that have the ability to enhance livelihood. His adventures across Asia, Africa, Europe, and the Americas have given him insight in a purposeful approach to living, and the eclectic styles that all cultures have to accomplish that. House of Waris Botanicals is, quite literally, the botanical blend of his findings.
Waris has seen in all cultures and countries that the hunger of time and the meaning of life is coveted by all — and he found that the answer to those questions was found in the kitchen cupboards of every home he's walked into.
Tea is an age-old remedy for personal and social wellbeing, and has ties to every single culture out there. Through tea, humanity can tell the most trusted stories, relive the most desired memories, and provide a connection between societies. For centuries past and for those yet to come, tea inspires unity, and is a rare oasis in a world of distraction.
House of Waris Botanicals allows the power of plants to heal anyone on a journey to higher health. Waris invites anyone to sit down with a cup of tea, and block out the noise of the world for a minute. Through this time, one can discover a more thoughtful way of living.