performance smoothie

chef prepared organic lunch

performance bar

delivery daily to your office
optimize your performance at work and start treating yourself like an athlete of the mind!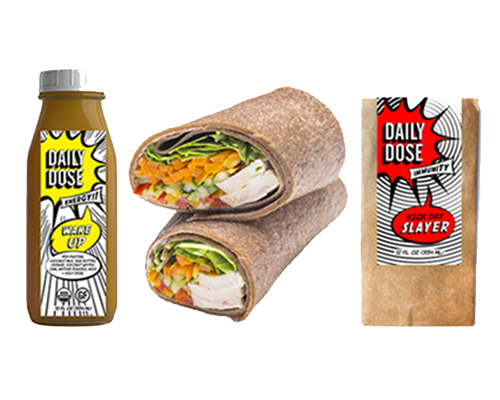 work performance nutrition
on Office Fuel you will bring your A game to work everyday
---
Get the secret weapons of the most successful offices. It's time to start treating yourself like an athlete of the mind! Office Fuel clients tend to have a performance smoothie for breakfast, an organic chef prepared lunch and a performance bar in the afternoon.
Stock your kitchen weekly with our performance smoothies and bars and order lunches to be delivered daily. Our bars and smoothies are formulated to help you target every aspect of the work day: Wake up, Sick Day Slayer, Stress Buster and Get $#!t Done.
Office Fuel performance smoothies and bars are created with a magic equation of whole food ingredients to help protect your immune system, keep you energized, increase your focus, help you process stress and stay on point throughout the work day.
increased focus
improved energy
gut health/immunity
sleep better
supports anti-aging
fight inflammation
"Ordering healthy lunches at work used to be such a problem. With Office Fuel I don't have to worry anymore.
executive chairman Structure Tone Inc
Daliy Dose keeps my focused and on task all day long. I smoothie for brekafast, have my lunch delivered and have a performance bar in the afternoon.
"Daily Dose doesn't simply provide healthful food to meet your particular goals. Their food is creative, innovative and as delicious as any restaurant meal."
"Office Fuel has been a game changer for me. Now be healthy at the office is super convenient.
Office Fuel corporate program
stock your fridge weekly with performance smoothies

stock your pantry weekly with performance bars

choose from a menu of chef prepared organic lunches delivered daily to your office
Thanks!
This field is required
This field is required
This field is required
This field is required