Most of us have heard the term "nutrient-dense" before, but do we all actually understand what it means? Nutrient density technically means the number of nutrients per calorie of food - so it is the ratio of nutrient content to the total energy content in that food.  
Imagine we are comparing a specific nutrient, let's use iron here in the example of ½ cup cannellini beans compared to ½ cup lentils. First we would determine the iron content in each: ½ cup cannellini beans contains 4 mg of iron, while ½ cup lentils contains 3 mg of iron. Then we would determine the calorie content of each food: ½ cup white beans provides 100 calories, while ½ cup lentils provides 115 calories. The nutrient density of iron in cannellini beans is 0.04, and the nutrient density of iron in lentils is 0.03. So if we wanted to know, technically speaking, which is more nutrient-dense in terms of iron, cannellini beans or lentils, the answer would be cannellini beans, because the ratio is higher.
Foods that are nutrient-dense provide many different micronutrients (vitamins and minerals) and a moderate amount of calories. An example of a nutrient-dense food is a piece of wild-caught salmon. It is rich in anti-inflammatory omega-3 fatty acids, rich in protein, and provides the following micronutrients: Vitamin B12, Vitamin D, Potassium, Selenium, Vitamin B3, and Vitamin B6. On the other side of the spectrum would be an empty-calorie food, or a food that contains very little nutrients, but a moderate to high amount of calories. An example of this would be a bottle of soda, like cola. It provides about 140 calories, 39 grams of sugar, no fat, no protein, and no micronutrients aside from sodium. Typically, calorie-empty foods are naked carbohydrates that don't contain fiber.
Why Do Nutrient-dense Foods Curb Cravings?
Nutrient-dense foods, rich in protein, fiber, and fat, are essential for blood sugar balance. Blood sugar (glucose) levels are regulated by our pancreas, an organ in the endocrine system. The endocrine system is responsible for producing dozens of hormones, which are essentially chemical messengers. These messengers travel through the blood to different organs and tissues in the body coordinating various functions. Examples of hormones include sex hormones like progesterone, testosterone, and estrogen, stress hormones like cortisol, thyroid hormones such as T4 and T3, hunger hormones such as leptin and ghrelin, and so many more.
When we eat a meal rich in carbohydrates, our body sends a signal to our pancreas to start producing insulin. Insulin's responsibility is to lower blood glucose levels by telling the body to start storing glucose in the muscle and liver as energy. This is a beautifully engineered system, but it requires work on our part to function properly.
If we continually eat empty-calorie foods, void of micronutrients, phytonutrients, protein, fiber, and fat, our bodies start to go on a glucose/insulin roller coaster. The pancreas begins to pump out lots of insulin causing blood sugar to crash which greatly affects our mood and impacts hormones. This blood sugar roller coaster can cause us to lose our innate ability to sense when we are full and may lead to cravings.
While all of our meal plans at The Daily Dose are nutrient dense, these are some specifically supportive in blood sugar balance for those of you needing immediate help: Ketotarian ,Paleo, and Protein Forward. As you stabilize glucose levels you'll be surprised to know that eating more carbohydrate-forward meals improves insulin sensitivity. When we restrict carbs, as in lower carb meal plans in the aforementioned plans, we're applying a band-aid effect that helps lower glucose levels. But, it's a momentary effect. To really achieve real insulin sensitivity, we need to be able to consume real food, whole food carbohydrate sources. That's the true test. The human body was designed to tolerate carbs so if you don't currently tolerate them (i.e., you gain 10 pounds just looking at a bowl of oatmeal and forget a small slice of birthday cake!), then starting off by gaining control of your glucose and insulin is a good first step. Don't worry, eventually you'll be able to enjoy our more carb – forward meals!
Key Nutrients to Prevent Cravings
While all micronutrients serve a purpose in the body, there are specific ones that might help to reduce cravings:
How We Can Support You Here at the Daily Dose!
As you can see, eating a nutrient-dense diet is essential for curbing cravings and maintaining healthy hormone balance. Do you feel like you're stuck in a rut with meals and crave processed foods all the time? Are you looking to get back on the right track?
You can check out more about The Daily Dose here and all of our delicious meal plans. If you are ready to take it a step further, consider joining our 28 day challenge. This challenge focuses on nutrition, movement, and mindfulness to help you find your best self. This 4-week plan starts on Mondays this month for as little as $65 a day! Join us on January 17 or January 24!
Tricia Williams is a talented Chef recognized as a leader in the fields of Nutrition and Holistic Health. Some years ago, Tricia founded Food Matters, a boutique, nutritionally-sound meal delivery service. Closely collaborating with her clients' coaches, integrative physicians, and nutritionists, Tricia was able to successfully tailor meal plans that met both their taste preferences and their health goals.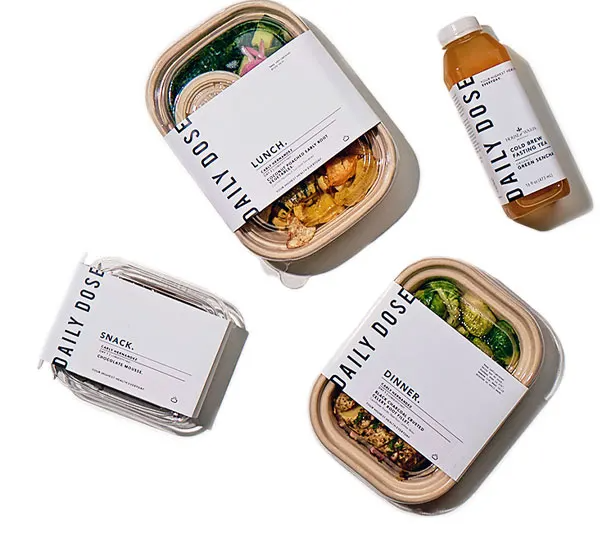 The Longevity Fast 2.0 is a holistic program that gives you the same benefits of a water fast without the food deprivation. This 5-day vegan and gluten free program, helps ease your body into a fasting state in order to improve cellular health and longevity. more info